News from Edelpark
March 2013 - Sydney Royal News
EDELPARK havanese has had great success at the 2013 Royal Easter show. The Sydney Royal show had close to 4000 dogs entered in 2013, which makes the show one of the largest dog shows in the southern hemisphere. EDELPARK havanese competed at the show and came home with one of each colour ribbon.

The most outstanding success went to EDELPARK Havna Parti ( she is black and white; her picture is below). She was awarded first in her class and then competed against all of the other winners to be awarded the best female Havanese at the show. This is an outstanding result.
Our other awards went to the boys which were a second place to EDELPARK Double Dare and a third place to EDELPARK Feelin Groovy. Their photos are on our 'boys' tab on this web site. As we are a small boutique breeder of havanese we are very pleased with this years Royal results.
March 2013
CH EDELPARK Havna Parti (Barbie) has achieved the title of Australian Champion in March. She is owned by P Hoole and K Jensen. Congratulations on achieving such a prestigious title. Barbie is a lovely black and white party colour and her photo is shown below.

On the 24th of March Barbie was entered at the 4Ps Dog Show. This is a speciality show just for dogs of the toys breeds. There were over 200 entries at this show. Barbie was awarded Best of Breed which means she was the best Havanese at the show on the day. This is an outstanding result, as she beat many boy and girl dogs much older than herself.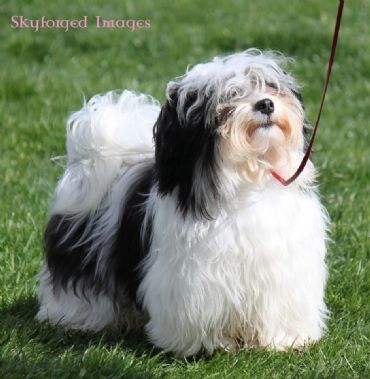 February 2013
We are pleased to announce the arrival of a healthy litter of puppies on the 6th of February. The mother is CH EDELPARK Eye Candy and the father is CH CUBET Hey Presto. Please refer to our puppies page for further details. Photos of mum (creme) and dad (black) are shown below.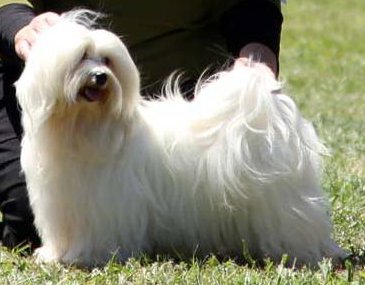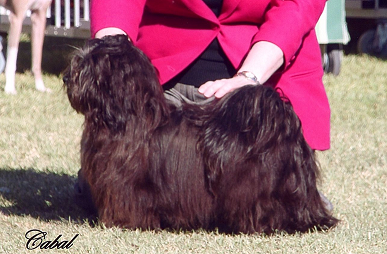 September 2012
September has been a very busy time for Edelpark, in preparation for the Melbourne Royal Show. The Melbourne Royal Show is the largest dog show in the Southern Hemisphere with over 200 breeds and over 4000 dogs entered. We are a small boutique kennel and are very pleased with our Royal results.
1st place – Edelpark Fairground Attraction (Eddi) in the Puppy Bitch class. Eddie is owned by Gail Ransom (Karyme Kennels). She is a crème female with excellent pigmentation.
1st place – Edelpark Havna Parti (Barbie) in the Minor Puppy bitch class. Barbie is owned by Pam Hoole (Oleala Kennels). Barbie is an expressive black and white parti female. She recently won Minor Puppy in Group in August 2012 at the ACT Ladies kennel Club.
1st place – Edelpark Feelin Groovy (Groovy) in the Puppy Dog class. Groovy is owned by Edelpark. He is a crème male with abundant and correct silky coat. He has excellent extension in his movement. He competed against the other Puppys at the Royal to progress and win the major award for Puppy of the Breed.
3rd place – Edelpark Double Dare (Dare) in the Australian Breed dog class. Dare was not at his best on the day due to a loud thunderstorm, and was awarded 3rd place. He had better success with a 1st place at the Sydney Royal earlier in the year. The Sydney Royal is also one of the larger shows in the southern hemisphere with over 4000 entries.
During this month we placed one of our older females to a forever home. Edelpark Eye Spy (Patch), who is now enjoying her daily walks and relaxing on the lounge, with a wonderful family on the South Coast of NSW.
Contact Details
M Newhouse
Sydney/Wollongong, NSW, Australia
Phone : 0402 332 332